Rooftop Decks to Add Elevation to Your Space
Roof decks are in high demand in homes with flat roofs. Roof decks are common in urban areas because they allow you to appreciate your surroundings while also increasing the amount of space available. There is no better place to unwind than on rooftop decks, where you can take in the scenery and spend quality time with family and friends.
But what makes a rooftop deck design appealing? Perhaps it's the breathtaking view, a popular gathering spot, or the ideal location for a high-rise garden. Whatever prompted you to consider a rooftop deck design, this project deserves to be taken seriously. You must complete some preliminary work before we discuss the concept of a rooftop deck.
Can rooftop decks enhance your space
Outdoor space in your home is always a good thing. No matter how beautiful your building's interior is, people still want a piece of the outdoors. If you also want a private space to enjoy, consider a rooftop remodel. A roof deck can be a great way to decorate your home and can add extra space to your building. Rooftop decks are not only good for adding space to your home, but they can also be very private and peaceful. rooftop decks can provide you with great gardening space, and since they are built on the roof, your plants can get more sunlight. The most important point is that rooftop decks can effectively increase the value of your home by providing more space and privacy for your property. You can also choose more materials and looks for your rooftop decks.
Check the building codes and HOA rules.
The first step in rooftop deck construction is determining whether you are eligible to own a rooftop deck. Check all local building codes, especially if you live in a community where homeowner association rules must be followed. If you're unsure what to do, you can consult with a local deck contractor, who will be able to tell you whether codes apply to roof decks.
Can your roof structure withstand the additional weight? A building code official may be able to assist you in this regard. Or perhaps not. They may, at the very least, be aware of the load requirements in your area. A master builder or structural engineer may also be required to determine the load capacity of your roof. They can determine whether your current roof can support the additional weight of your deck. Never construct a rooftop deck space without first checking this.
Ensure the construction site is safe.
Roof deck construction frequently necessitates more space than ground-level decks. You must decide whether the construction crew will gain access to your roof via indoor stairs or outdoor scaffolding. Some homes may even require crane access to the rooftop decks, which means there must be enough room for the crane to maneuver around trees or other obstacles.
Plan the surrounding environment
The surrounding landscape of trees will play an important role in the design of roof decks. Trees provide natural shade and create an appealing natural ambiance on the rooftop terrace. Not to mention that they offer some privacy from your neighbors.
You may need to cut down some trees or plan to plant new ones for future growth depending on how the trees on your property relate to where you want your deck to be.
On your deck, you can also install built-in planters. Containers of plants and shrubs placed around your deck can help provide the same privacy and shade benefits.
Selecting the Best Decking Material
The selection of decking materials is critical, even more so for roof deck construction than for ground-level decks. Rooftop decks will be exposed to harsher natural elements such as sun, wind, rain, and snow. Not all decking materials are suitable for roof decks, so do your homework before making a decision.
Pressure-treated wood splinters requires a lot of maintenance, and frequently necessitates a 12-inch gap underneath, making it unsuitable for most roof decks. Hardwood decking can be quite expensive and is not suitable for environmentally conscious homeowners.
Composite decking is extremely environmentally friendly, requires little maintenance, is cool to the touch, and does not splinter easily. Even better, composite materials can be used for all aspects of roof deck construction, including flooring, siding, stairs, railings, benches, and gazebos. Everything you can build with wood can also be built with composites to create a beautiful and cohesive design for your rooftop living space.
Choose the best rooftop deck furniture.
A simple rooftop deck can transform into a comfortable outdoor living space with the right furniture. Choosing rooftop decking furniture that can withstand direct sunlight and rain is just as important as choosing the right materials to build your rooftop deck.
Look for outdoor furniture that is rated for outdoor use, is easy to clean, and is fade and stain resistant when purchasing long-lasting outdoor furniture.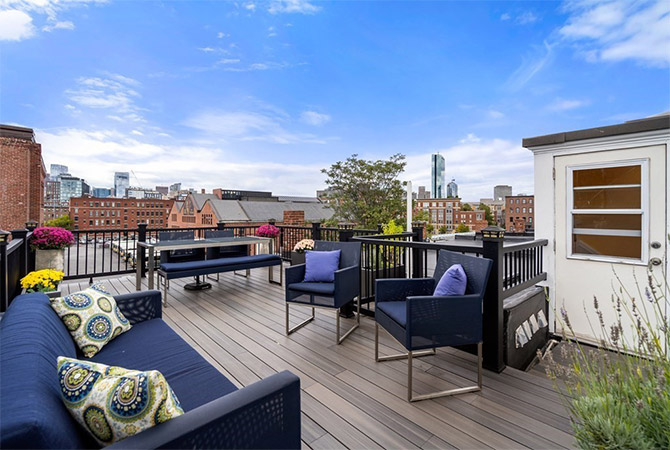 A pergola is an accent
Another advantage of having a rooftop deck is that you can enjoy the clear, unobstructed sky. However, the sun can be too bright at times. Consider adding a pergola if you want just the right amount of shade without interfering with your experience of resting up high.
Pergolas provide shade for outdoor living areas. More importantly, a distinctive pergola design can enhance the overall atmosphere of the outdoor living space.
Include seasonal elements.
There are numerous options for making your rooftop deck accessible almost all year. Plush blankets will keep you and your guests comfortable while adding design-rich textures and an inviting atmosphere to your space. Consider installing a fire pit so you can continue to enjoy your outdoor space even when the temperature drops.
---