Can I put composite decking over pressure-treated wood?
If your wood deck is starting to creak, crack and rot, it means you need to replace your outdoor deck. Not only does this condition make your outdoor space look worse, but it can also present many safety hazards. Replacing your deck with a new one can bring more safety to your space as well as to your life. Due to the limited lifespan of wood decking and with the advancement of technology, more and more homeowners are choosing composite decking as their building material. However, many homeowners are asking, can I put composite decking over pressure-treated wood? In this article, we will discuss whether you can put composite decking over pressure-treated wood and the considerations of replacing wood decks with composite.
What is composite decking
Before we get into how to replace wood deck boards with composite, it's important to understand what composite decking is and what its properties are.
Composite decking is a new type of building material made from a mixture of recycled plastic and wood fibers. Composite decking materials are more popular because of their durability, lower maintenance, and variety of styles. It is important to note, however, that composite decking is more expensive than treated wood, but it's excellent durability and maintenance-free nature makes it even more appealing.
Can you put composite decking over pressure-treated wood?
The most attractive aspect of composite decking over existing decks is that it saves more time. But can you do this? Simply put, yes you can. Laying a new composite deck over an existing deck can save more time and money. This seems like a logical choice, but there are many drawbacks.
Before you start your build, you need to consider the weight of the existing wood deck, how much does it weigh? Is it new enough? Is the deck rotting and cracking? These questions are very important because when you need to install composite decks over the existing ones, the former will directly affect the latter. If your wood decking is rotting and cracking, the life of the composite deck on which it is laid will be shortened as well. Although composite material is highly resistant to rot, moisture can be trapped underneath because of the substructure. This can lead to damage to the substructure and decay of the composite decks.
If your pressure-treated decks are relatively new, then it will not affect the overall use and life of the composite deck boards. Even if it does, there will not be as much damage as with older decks. But if your wood deck is new, why would you want to convert the wood deck to composite? You need to take into account the price of composite materials because composite decking is really very expensive.
If you have decided to replace wood decks with composite, then what do you need to take note of?
Check the condition of the existing deck
Before installing a composite deck over the existing wood deck, you need to make sure that the current structure is in good condition. If the pressure-treated wood is safe and sturdy and shows no signs of rot or cracking, then it is possible to consider installing composite decking directly. However, if the wood is in poor condition, then it is recommended that you simply remove the original deck and re-lay the composite decking.
Weight
Generally speaking, composite deck material weighs twice as much as pressure-treated lumber. While this does not prevent you from laying composite decks on top of the original wood decking, you will need to make some adjustments to the original to increase the weight. Otherwise, the deck structure may not be able to support the weight of the deck and the deck may collapse from the extra weight. If you are still determining if your frame can handle the added weight, consult a professional before making changes.
Age
Over time, even durable treated wood structures can begin to become susceptible to damage. So if your deck is more than five years old, avoid installing it directly over the original deck. Even if you reinforce the deck and framing to add extra weight, wood decks can chip and collapse.
Span of joists
Composite decking joists must be spaced closer together than pressure-treated wood joists. Generally, composite decking boards have joists spaced between 12 and 16 inches apart, while pressure-treated lumber is spaced between 16-24 inches apart. If the joists are spaced too far apart, then your composite decking may warp or sag over time.
Reinforcing the original deck
If your deck is new enough, you can reinforce it by adding additional joists. As mentioned above, the joist spacing for wood decks is 16-24 inches. Measure the original joist spacing and cut and install new joist framing based on the measurements. This effectively provides additional support to ensure the safety of the deck.
Pay attention to the height of the deck
Keep in mind that if you plan to replace wood decks with composite, then your deck height will increase. Be sure you have enough window and door clearance that will not be affected by the increased size of the deck.
Use the original framing for composite decking
If the pressure-treated lumber is rotting and cracking, then it is recommended that you simply remove the original decking. However, many people want to know if they can use the previous framing to install composite decks.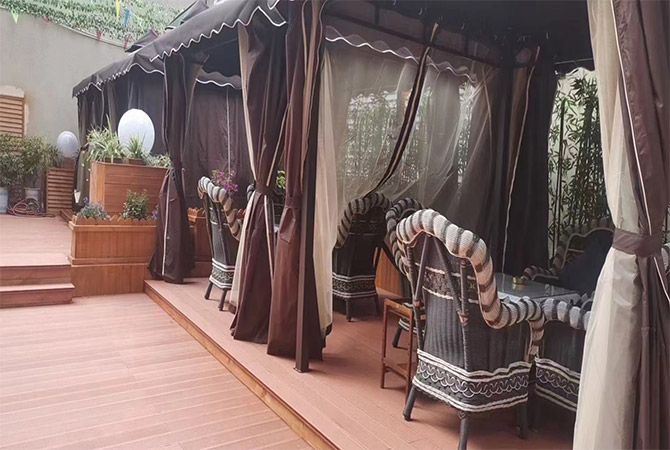 We do not recommend this because composite decking installation requires adequate conditions and you will need to upgrade or modify the previous frame. Direct installation means little to no drainage or air circulation, which can eventually lead to rot and damage to the composite materials.
So where possible, add drainage ramps to your deck framing. Allowing your frame to have a slight drop, effectively allows water to drain away and allows the deck to avoid rot and warping.
When preparing to install a composite deck, we usually recommend choosing composite or plastic framing. However, it is easier to install the deck directly onto the existing wood frame. Therefore it is necessary to use joist tape to better protect your wood joists and to provide complete waterproofing of your joist surfaces. This protects your joist frames from weathering or rotting due to extreme weather.
Conclusion
In conclusion, you can put composite decking over pressure-treated wood if conditions allow, but you need to consider the deck's current condition, the joists' spacing, and the year of use. If all these conditions are met, then the installation is very safe and hassle-free.
---